Brandmesiter Network now has a Talkgroup #3196 for ATV.
Today, April 7, Roland Hoffman, KC6JPG announced to the Amateur Television Network (ATN) community the Brandmeister team has assigned the TalkGroup #3196 to its powerful Network. Roland is quoted as saying, "This Talkgroup will be well utilized and will be used as a vital link with our national and international television operators to communicate within one another during our live video transmissions within the amateur radio service, especially with the many emergency operation centers and agencies we serve during a time of crisis. Our ATV operators will now be in constant communications with each other while manning their cameras , especially during emergency operations, thanks to YOU, your US Coordinator, and your entire team in establishing TG 3196 for ATN." Roland further commented to Brandmeister liason, Anthony Marcin, "On behalf of the hundreds of ATV operators within our Amateur Television Network team, THANK YOU and the entire Brandmeister team for your service and support towards establishing TG 3196 for the Amateur Televison Network.

Roland Hoffman – KC6JPG
Digital Systems Director
Amateur Television Network
kc6jpg@charter.net
If anyone would like more information on the Brandmeister Network or Talkgroups please use the links here. Some of you may be very familiar with using Talkgroups and have some helpful information for the rest of us, please contact the webmaster for inclusion in this article. I'm sure more nuggets will be shared on the WØATN repeater in the coming weeks. Check into the Wednesday evening net @ 7pm 146.73 repeater to hear/see the latest.
Hamvention ATV Forum Saturday May 20, 2022

Time Presenter Call Topics
10:40 – 10:45 Art Towslee WA8RMC Welcome statement and general comments (Forum Moderator).

10:50 – 10:55 Gordon West WB6NOA Warm up. ATV Forum with fun audio sounds, couple of one liners and preview of all excitement.

11:00 – 11:20 Mel Whitten K0PFX Introduction to Amateur Digital Television (DATV). Mel will describe how easy it is to add Digital ATV into your ham station. Hardware, software and PC integration will be described. Come and see how it works!

11:25 – 11:35 Mike Collis WA6SVT Mike will describe the new features of the California ATN network and DATV repeater system.

11:40 – 11:50 Art Towslee WA8RMC Wrap up and introduction of the new DATV standalone scanning receiver.


ATV Friday Night dinner.
The ATV Friday Night Dinner will be at China Garden Buffet restaurant starting at 6:30PM on 112 Woodman Drive in Dayton, Ohio 45431 (Airway Shopping Center) on May 20. Buffet Dinner $15.99 (937-781-9999). We have dinner then presentations about various ATV topics and door prizes concluding about 9:30PM. All are invited.
---
New Talk Back Frequency for all ATV activity! 146.73
(enc tone 141.3)
Weekly NET
The weekly SLATS NET meets on Wednesday evenings at 7 PM on 144.34 146.73 Mhz Repeater (WØKE) TONE ENCODE 141.3 Hz. (When the net is not in session, the normal talk-back frequency is 144.34 Mhz simplex.) Topics of discussion in the past couple of months have been extremely interesting! There have been presentations on various subjects from cool CAD programs for Amateur Radio/Electronics enthusiasts to the latest inexpensive (~$50) digital Antenna Analyzer! We also viewed the exciting video of the antenna replacement for local TV Station Fox2 KTVI at their transmitter site in Sunset Hills using a big Sikorsky S6 helicopter. Those that check in to the net can share videos of their construction projects, drone footage, security cams, or fascinating relevant videos they discovered on the internet. All this is made possible by utilizing the club's Digital ATV Repeater, WØATV/R transmitting on 426.00 Mhz. So, if you only have the capabilities to receive the repeater, be sure to check in on 146.73 Repeater to let us know you're watching. If you can transmit, come on in and join the fun. If you need help with your equipment, check-in! There are plenty of folks willing and able to help you GOTA (Get On The Air)!
Winterfest 2022 is now history!
First Club Meeting in Two Years – January 5, 2022
We met again at the Sports Cafe' in Bridgeton for good food and good comradery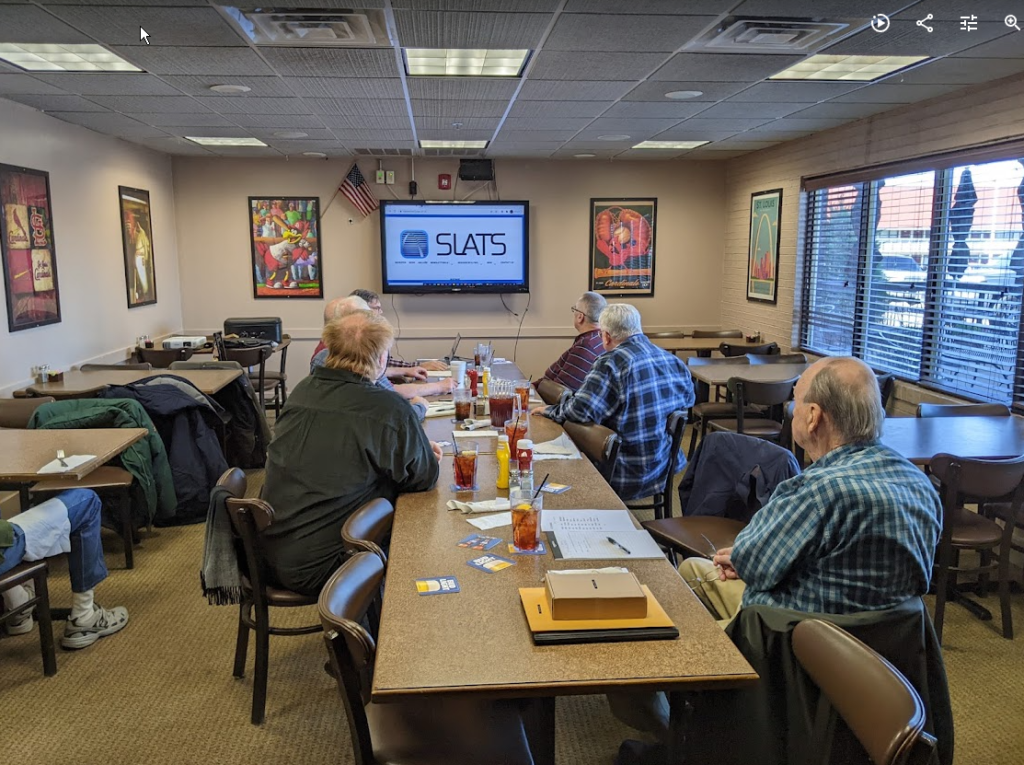 December's SLATS meeting was ..
a big success. The room and food at the Sports Cafe' were very satisfactory.
Eleven folks were present to hear and approve several new items and projects proposed by our president, Mel Whitten, KØPFX.
New club logo approved
New date for the club net – – Wednesday evenings @ 8 pm 144.34 MHz.
New Banner and Business cards to be printed for Winterfest
ATN personalized polo shirts etc. were distributed
The next luncheon may be at the same location next quarter.
Watch HERE for further news items and updates
HAMNATION BROADCAST GUIDE
FOR INTERVIEWS, HOW TO'S, AND MORE ON JUST ABOUT EVERY TOPIC ON AMATEUR RADIO, CHECK OUT HAMNATION TV