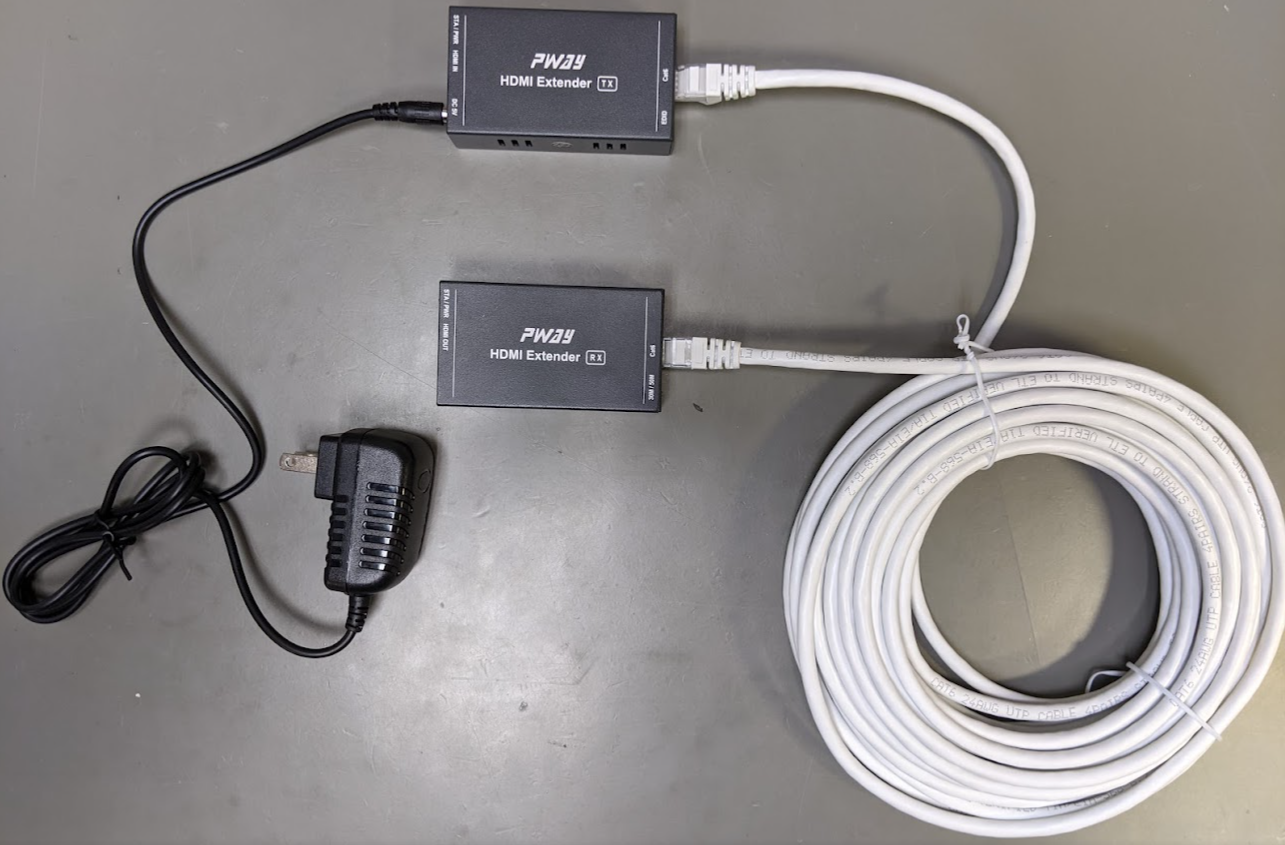 HDMI Cable Extender
Use:
Lower cost HDMI cable's maximum length is about 50ft for 1920 x 1080 resolution before the picture begins to degrade. If you need a longer length, one way is to use TX to RX CAT5e/6 Cable Extender boxes. These cost about $25 for the pair and require only one 5VDC wall wart power supply. POE (power over ethernet) or POC (power over cable) supplies DC power for both the TX and the far end RX box. It is always good to eliminate yet-another wall wart as POE/POC does.
Basics: How they work:
The input video source (in this case a HDMI camera or a TVI/AHD/CVI converter output) is connected to a balun transformer (balanced to un-balanced). This lets the signal be sent down the CAT5e or CAT6 ethernet cable on its tightly twisted pairs while providing good immunity to noise. At the far end, the CAT cable receives the signal and passes it through another balun and then to the HDMI cable.
Hookup:
Connect a camcorder/camera, PC or other HDMI device's output to the input of the TX box using a HDMI cable. If the camera has AHD/CVI/TVI analog technology using 75ohm coax cable, then the signal must be converted to HDMI. A different black box for this purpose is required (see pic below). An AHD security camera, for example, may then be extended hundreds of feet from the input of the HDMI TX Extender input. The HDMI signal out may now be sent down a long ethernet cable to the RX Extender box and out it's HDMI connector to a TV, monitor, HIDes transmitter or some other HDMI device. Refer to the pictures below for the connections.
Where to find them:
Amazon, eBay, etc. Extenders are readily available for a variety of applications. For our DATV application, a low cost one should work just fine. Search for HDMI Cable Extender.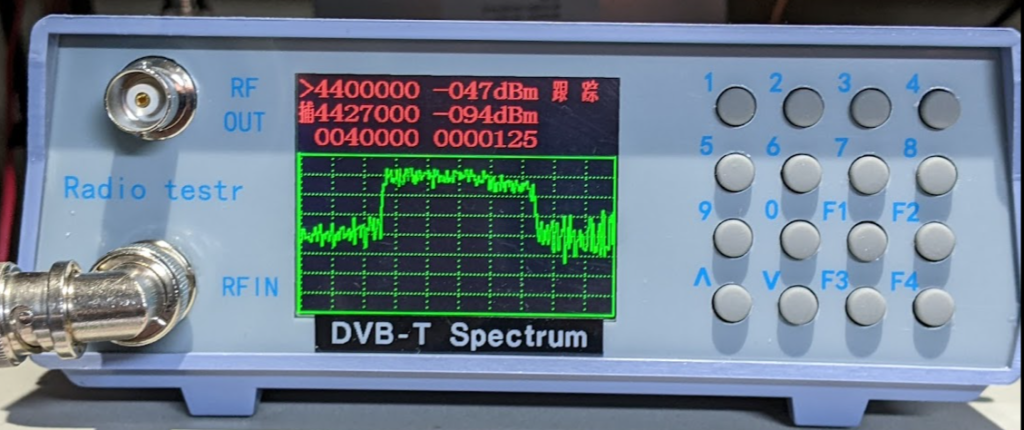 Spectrum Analyzer for 2m and 70cm
Want to monitor your Digital ATV signal? Here is a low-cost spectrum analyzer that will do just that. Set up is easy and just needs a short whip antenna connected to one of its BNC connectors to pick up the transmitter signal. Of course, it has many other uses as well especially for tuning a duplexer. I have had mine on monitoring DVB-T signals, the repeater, and my DMR hotspot for about a year now and it works great.
Currently, it sells for $120 but Banggood discounts often so you may find it for less.
Here are the specs:
– Frequency range: 136-173MHz 400-470MHz
– Spectrum dynamic range: -127dBm — 0dBm
– Resolution: 1dB
– Tracking source output power: ≈ -38 dBm
– Interface: BNC-F
– Power: need external DC 8 – 12V
Introduction to Digital ATV Presentation by Mel, KØPFX at the January 25, 2020 Winterfest in Collinsville, IL. This is a great video to learn the basics of Digital ATV.
One of the least expensive, easiest and quickest ways to get on the air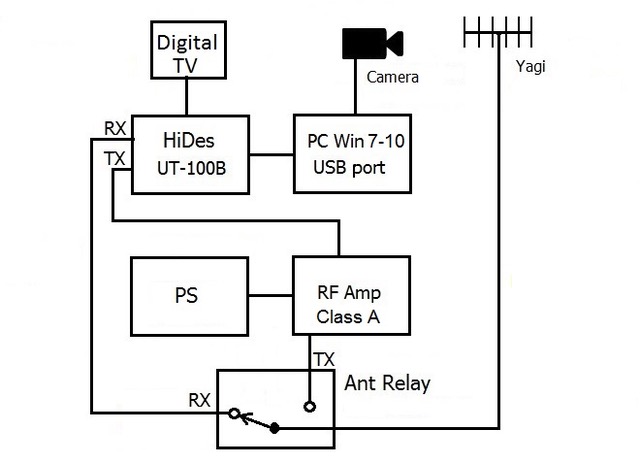 Using the UT-100B Dongle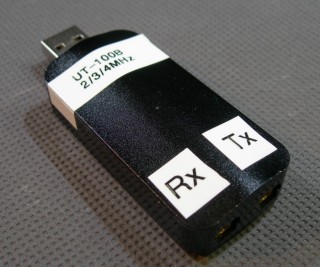 HiDes UT-100B Dongle
Find one on eBay
Mel, KØPFX, demonstrates how easy it is to set up a Digital ATV station.
A more versatile setup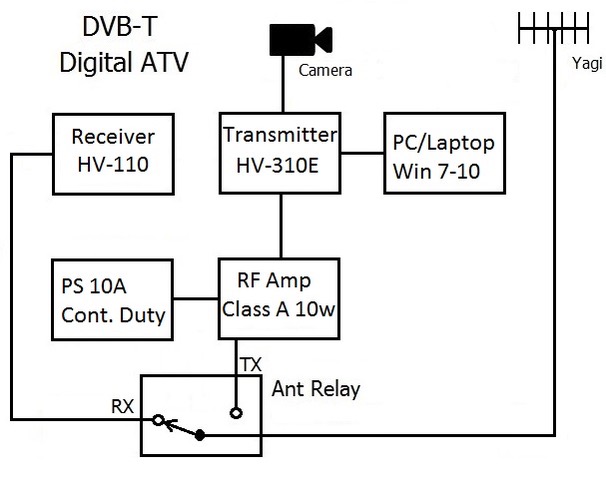 HiDes HV-310E TX and
HV-110 RX
Simple Block Diagram
HV-110 Receiver (front)
Find one on eBay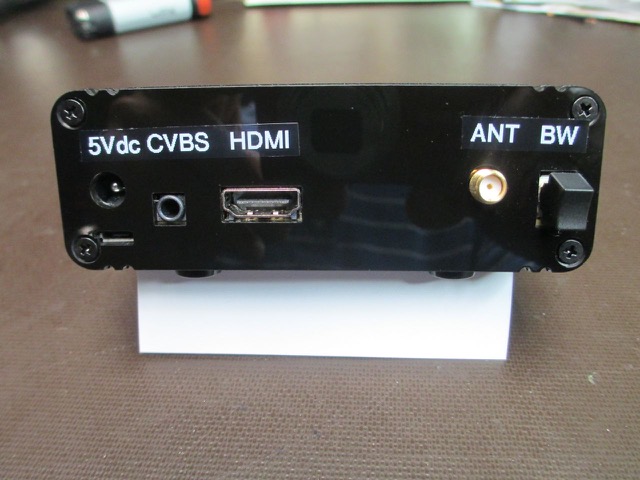 HV-110 Receiver (rear)
DVB-T Diagram with Interface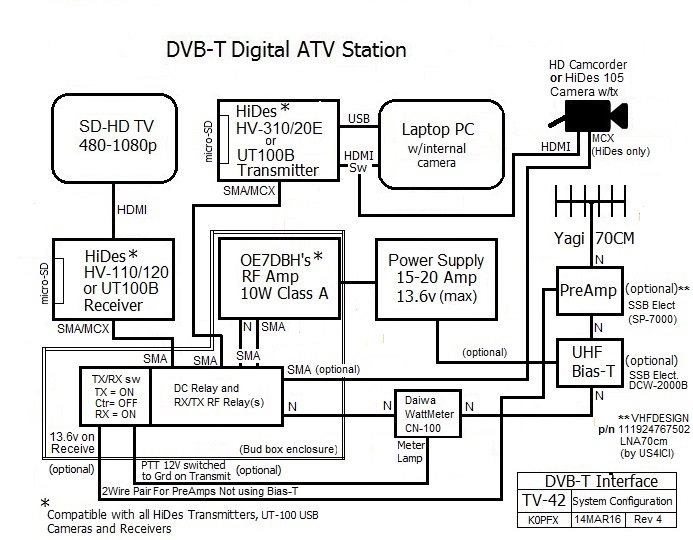 Complete DVB-T Station
Class A Linear Amp from Darko, OE7DBH ~10 watts out
Resources on the Web…
Jim Andrews Amplifiers and DATV app notes: